It is a Cool Monday Morning and Horatio decided to come in early and get some paper work done. Maybe have a little lunch with Calleigh and then go and greet the day and solve some cases. well...this day did not turn out as planned.
The whole lab is in turmoil.  Daniel Cooper is not very liked by the lab all that much....Cooper really got Cal angry that morning...an argument beyond measure. Horatio was walking into the middle of it.
Ryan: WHAT? YOU CALLED CALLEIGH OUT ON A CRIME SCENE??WHAT DID U DO THAT FOR? A BANK ROBBERY AND A MURDER SUSPECT? SHE HAS ONLY BEEN WORKING HERE FOUR TIMES!! and you send her out there by herself????????????? WHAT THE HECK WERE YOU THINKING  COOP????? Nat: I told her Not to go.... really
Ryan: H Is going to be furious!!! SERIOUSLY when he gets in!!!! WE WERE TO LOOK AFTER HER!!! COOPER HOW DARE  you!!!
the argument gets heated...
Cooper: I told her not to!
Ryan: HORSE PUCKY! You walked in! now Cal is gonna get into trouble on top of it!!! Going alone at that!! Whoo man you are going to be facing fire and so is Cal! But more so you!! Cal may get fired because of you!!! H fires her and so help me! If she gets suspended you will still get it from us!
Meanwhile:
Cal drives to 1467 Palms West stopping in front of the address she was supposed to go to..(or at least she thought....she was supposed to go to. ) She gets out and she checks. She sees no officers are at the scene...: wait a cotton picking minute.... there is no one here... I was told officers were to be here.... She gets her gun out looking around. She radios Horatio...Calling Lt. Caine...we have a situation... no officers here and I was told there was going to be officers here....No answer from Horatio at the moment.  


Cal walks around the back ...and sees two suspects one female and one male robbing the place: Cal :HEY! Miami Dade Police!! STOP! as she runs.... both turn to open fire...on her. She stops and she opens fire and misses both as they get away ...she stops bending her knees opening her gun and shooting past : DAMN IT!!! shooting somem ore hitting the window but no go. DAMN IT! DAMN IT Stomping her feet. GREAT! she got the liscense plate calling it in ... We have a car...Red and white convertable top up... J 7 A 5 H 0 Florida liscense plate... and we have it going north bound on the highway...
Frank picks her up: CALLEIGH???? WHAT THE HELL ARE YOU DOING GOING TO A SCENE BY YOURSELF?
Cal replies: well...The answer to that question is i was sent out here...and there were no...officers after I was told... there were going to be officers here..... when I arrived.
Frank: DAMN IT! Ok well head back to POST! I repeat Head back to post.
Cal: I need to search for that suspect!!!
Frank: CALLEIGH! I SAID.....HEAD BACK TO THE PD ....NOW...H is going to fry your butt!!! Seriously! You knew better!
Cal: I said...I was sent here and there were no officers here when I was told there was gonna be!
Frank: Damn it....He heads Calleigh's way.
Cal:  Sees two dead bodies.... Radioing Horatio and Frank: we have two dead bodies ... A man and a woman.  Looks like they are in their thirties.  gun still out.
Frank parks. as  officers follow behind. Cal swings her gun around looking around the scene. Wowsa.... as someone is in the closet... She feels not so good about it.... she kicks it down and there stands a man with a gun at Cal's face. Cal has hers pushing him to the ground stepping her feet on his hand... WELL YOU SON OF A BITCH! YOU WANT TO DO THIS TO ME??? HM? I don't think so... hands behind ur back....
Frank: is dumbfounded but angrier now.; Ok Wonderwoman!!! WOW YOU COULDA GOTTEN SHOT!!  OH H is gonna tell u off now! 1. You were here ALONE....2. Ok the bodies was normal finding them...But then you try to wrestle down a muscular man by yourself with a gun???? ohhhh no. H is gonna almost fry your butt now.... GET into your Hummer and wait! AND DON'T DO ANOTHER THING!
Cal tries to speak. Frank: HA! I SAID NO!  he goes in with Natalia and Eric and Ryan to process the scene. Cal wrote and signed the paper as the officer who apprehended the suspect.  She sits . Frank calls Horatio: Hey ...H Need to talk...he goes to the corner.
H you will not believe this!!!   1. Calleigh came here.... searched and tried to arrest two suspects which so convenientely got away...then she comes into the house...and sees the dead corpses...which was at least 1 thing she did right. Then not only that???? Not only that??? she kicks open a door a gun man flies out of it...and she wrestles him down standing on his hand and arrests him ...acting like Bionic woman! yes  this man was over six foot with muscles of Dog the bounty hunter ALMOST. Yes...she did come here alone.  She radioed me , I tracked her...and found her here...
Coop sent her out here? well still no excuse! she could have been killed today. Shall I send her back? I will send her back and you decide what to do with her.  Motioning Calleigh to go back to MDPD.
He sighs.... leaning against his car.
What does Horatio do? They are a couple... but at Work they are boss and employee CSI. So..this is a different story. He has to be  the BOSS . He loves her but he has to be the boss he is at Miami Dade Police Department. What does he do?  This is a fun RP lots of action.  Let us decide.

_________________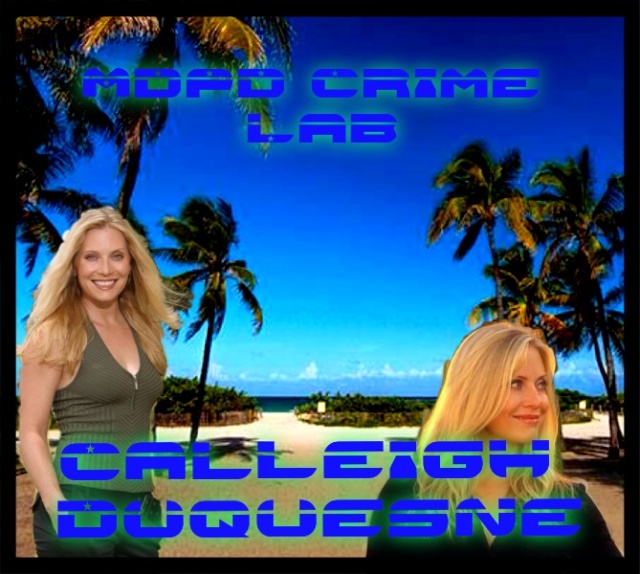 Posts

: 31


Join date

: 2014-10-22


Age

: 29


Location

: Miami, Florida





Similar topics
---
Permissions in this forum:
You
cannot
reply to topics in this forum